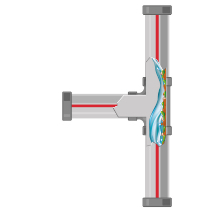 Biofilm is formed over time on surfaces in wet environments, such as pipes used to transfer liquid. It adheres to the inner surface of the pipe, forming a slimy, glue-like substance where bacteria can form and grow. Gradually, biofilm becomes capable of releasing microorganisms and bacteria into the water. This release of bacteria can not only alter the quality of water, but it can also lead to a number of known illnesses.
Legionella is a waterborne disease that thrives in warm wet environments of 32° to 42°C, making plumbing systems the ideal location for growth. It can be transferred to the human body in mist form, such as the shower head. Infection can cause illnesses such as mild influenza or even pneumonia.
Water that has been contaminated by Pseudomonas can lead to lung infections and in some cases, severe infections of the blood. This is a particular risk to residents with weakened immune systems.
Coliform bacteria, of which E-coli is a member, is known to grow through biofilm in water and can lead to mild or extreme gastrointestinal illnesses. Coliform bacteria is a naturally occurring growth in the intestines of humans, however it can become a dangerous pathogen if found in water.
While it's easy to assume the pipe surface is as smooth on the inside as the outside and therefore incapable of accommodating unwelcome microbial residents, there are chemical reactions at work which are altering the pipe's surface, allowing bacteria to adhere more easily, encouraging biofilm to build a home within your home. To understand the source of this process, we return to the water treatment plant.