Explore the impact that different types of plumbing materials have on water quality and understand why FlowGuard® Plus is regarded as the best.
Material Comparison | on April 4th, 2021
Water is an essential need of our body and municipal corporations ensure that water is treated and supplied to homes for human consumption.
This treated water is potable, however, let's look at risks associated with various piping materials on potable water.
Assuming potable water is supplied, Health risks in pipes arise due to the following reasons:
Bacterial growth inside the piping system.
Leaching of unwanted chemicals/corrosion from the body of the piping systems.
So let's look at the above properties concerning the most commonly used material used in potable water supply piping, shall we?
Bacterial Growth in Plumbing Pipes
Bacterial growth inside the pipe happens when bacterial can sit inside the pipe. Once the bacterial sits it starts multiplying as the atmosphere is conducive due to temperature, water, air all present inside the pipe.
Hence, the smoother the pipe the fewer chances of the bacterial able to find a seat and grow.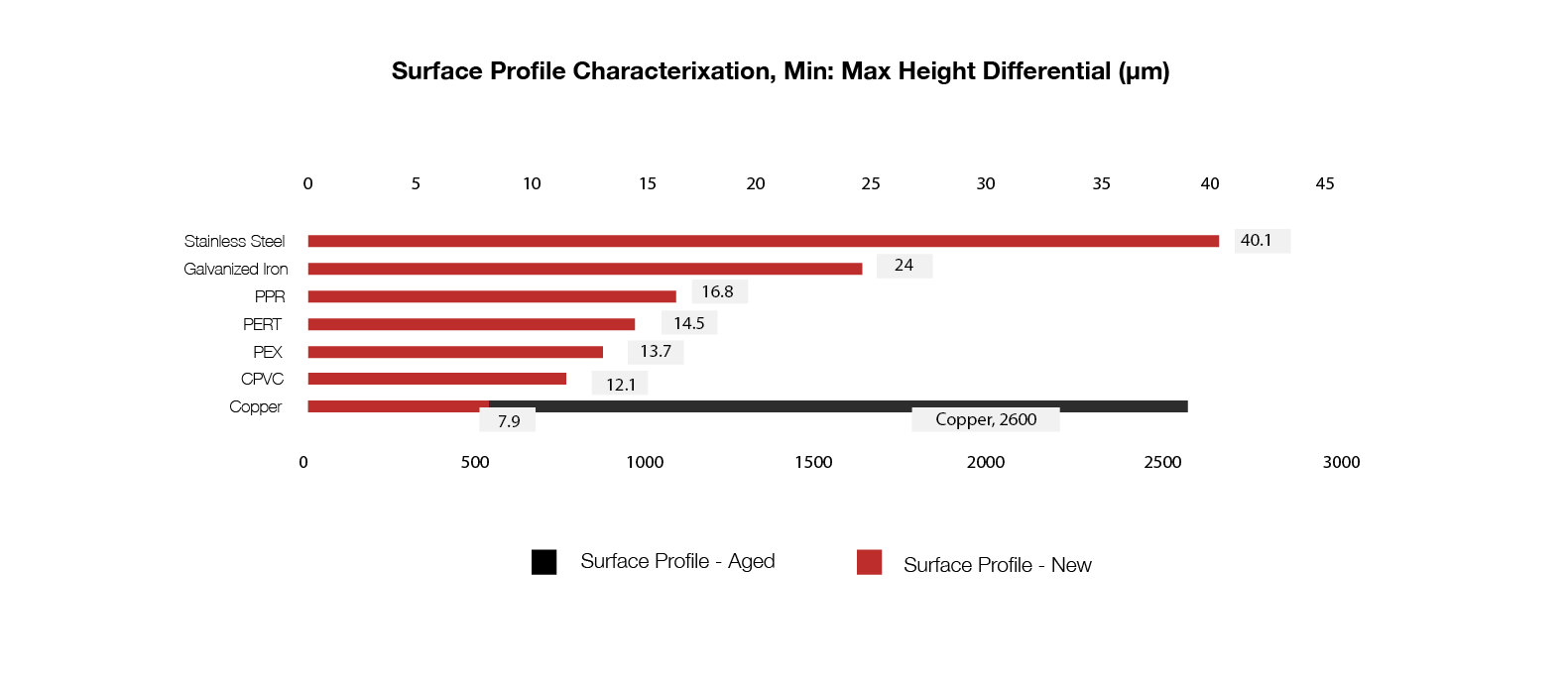 FlowGuard® Plus CPVC Pipes - Smoothest of the all
FlowGuard® Plus has a high level of smoothness 15µm, are 100% inert and the smoothness remains the same throughout the life of the piping systems, whereas for other piping systems like Copper, G.I & Stainless steel the inner surface corrodes and gives space for bacterial to house and grow, which could lead to contamination of water and lead to health hazards.
Elevated Temperatures and its effect on Plumbing pipes
Elevated temperatures of water work to break down the polymer of the plastic and this could lead to the leaching of chemicals from the piping material. FlowGuard® Plus CPVC Compounds which are NSF Certified to manufacture FlowGuard® Plus CPVC pipes and fittings around the world have been tested and in use for over 50+ years around the globe.
Other piping systems made of PPR, PEX have low thermal stability and could lead to a health issue in case of use in elevated water temperatures, In soft water(pH below 6.5), even copper piping may leach metallic contaminants above the recommended limit for safe drinking water, and research has shown that copper can damage a human protein that defends against Alzheimer's disease. Reddish water coming out of Galvanized Iron pipe has been a common sight in India.
FlowGuard® Plus CPVC - Safest for potable water supply
In one of the legal litigations in the US, Defren v. Trimark Homes, PEX piping was claimed as the source of chemical leaching which resulted in a diagnosis of chemical leaching. That court case was eventually settled by the builder, plumber, and PEX manufacturer. (20) Entropy Concepts LLC - Posts | Facebook

Reputed institutions like the University of Bonn Germany, KIWA in the Netherland, CRECEP in France, scientists at Virginia Tech have been studying the quality of water passing through various piping materials like copper, G.I, HDPE, PEX, and CPVC.

Their studies found "the short-term ability of all pipe materials, except CPVC, to impact water quality and aesthetics." In addition, the study noted that "CPVC was the most inert materials tested and had the least impact on water quality.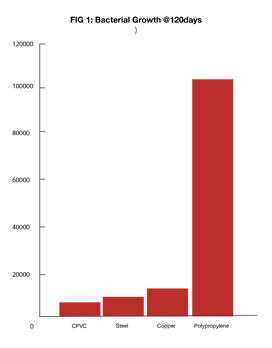 Study 1: Bacterial Growth in Plumbing Materials
Studies have shown that bacteria build-up CPVC is far lower than with alternative piping materials - copper, steel, and other thermoplastics.

Below are some results and conclusions of 3 different studies.
Health concerns*
CPVC piping supports the lowest bacterial growth compared with traditional piping materials. (see FIG 1)
(*) Study 1
Bakterielle Oberfläcjenbesidlung in trinkwasser-durchströmten Schlauch- und Rohrleitungen; Dr. Georg-Joachim Tuschewitzki; Privatdozent am Hygiene Institut der Universität Bonn; 23.10.1989.
Study 2: Turbibity changes during extended stagnation conditions in steel, copper, and CPVC pipes
The clear winner in terms of water deterioration in this laboratory study is the so CPVC pipe. As can be seen, very little sou deterioration occurred, even after extended stagnation" (see FIG 2)

With the absence of chemical corrosion reactions, the level of solids build-up was very low compared to the copper and steel pipe sections.
(*) Study 2:
Study conducted by Prof. F.L. hart the Worchester Polytechnic Institute for the US Fire Administration, Federal Emergency Management Agency.
Conclusion
From the above studies, it can be seen that a number of factors contribute to the quality of water, and piping material plays a major role as well. Some piping materials are not as smooth and support more bacterial growth, have higher biofilm formation compared to CPVC.
Further, prolonged stagnation of water also can be detrimental to the water quality as some materials leach out chemicals/metals to the water making it unsafe. Hence it is imperative that a homeowner takes an informed call when it comes to water supply potable water pipes in their homes.
Fortunately, all stakeholders like builders, homeowners, plumbing contractors, and plumbers have a healthy choice for cost-effective and easy-to-install pipes and fittings. FlowGuard® Plus pipes and fittings made from NSF certified compound are routinely tested to the highest standards for water quality and are compatible with chlorine-based water disinfection, and fully comply with international requirements for use in potable water.
FlowGuard® Plus piping systems outperform all other piping systems available or in knowledge in the areas of water quality impacts, biofilm growth potential, and chemical permeation.
It's time to take care of the health and hygiene of water quality seriously when the choice is for your Home. Make a shift to FlowGuard® Plus CPVC piping systems, if you are not using the one…..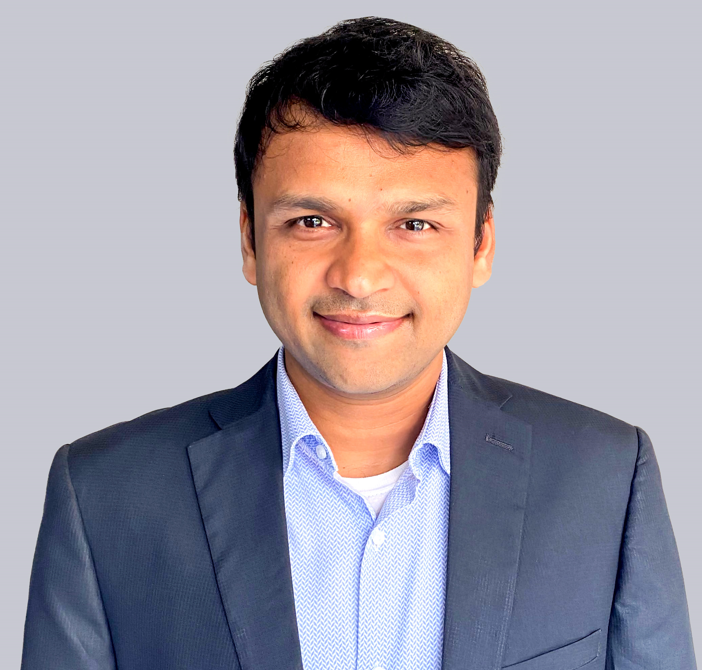 Binay Agrawal, a highly experienced and accomplished professional, currently holds the position of Business Head of the TempRite South Asia division at Lubrizol India.