FlowGuard® CPVC pipe and fittings are designed to meet the temperature and pressure requirements of hydronic applications and withstand the internal stresses that result from conveying fluids over time at various temperatures. Adhering to the following guidelines will help ensure CPVC thermoplastic piping systems are designed and installed correctly for reliable performance in these complex projects.
One of the most important attributes one should consider when choosing pipe material is how well it can withstand impacts, or a suddenly applied load. The demanding applications for pipe placed in plumbing or HVAC systems require specific performance characteristics. Before the pipe even goes into service, it is stored, handled and installed. Damage to the pipe during transport or from falling items on the job site can be costly to the project and cause potential delays.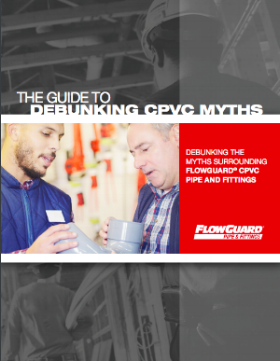 Debunking CPVC Myths
Find straightforward answers to questions about: joint reliability, drinking water safety, service life and more.
In 2015, ASHRAE issued a voluntary consensus standard that establishes minimum risk management requirements for buildings with complex water systems, including cooling towers. Also now an ANSI standard, ASHRAE 188, "Legionellosis: Risk Management for Building Water Systems," recognizes that biofilm as a pathway to harmful microbial growth in piping is an industry concern that must be managed proactively.
Thinking ahead to your next HVAC piping project? Did you know there's a code-compliant non-metallic option that: Will never pit, scale or corrode Resists biofilm growth Is lightweight Can cut your labor costs in half?
A pipe pressure rating tells a system designer how well a thermoplastic material will withstand the internal stresses placed by the fluid being conveyed over time at various temperatures. When working with FlowGuard® CPVC pipe, designers should know that the pressure bearing capability of the pipe has been proven in a rigorous data collection and analysis process that has been established by the Hydrostatic Stress Board of the Plastics Pipe Institute (PPI).
A question commonly asked about CPVC piping is what makes it susceptible to failures once in service. It is not necessary to have a materials science degree to gain an understanding of the factors involved. Essentially, certain conditions must be present for a failure to be set into motion. In this post we will look at what these conditions are and how they may interact with each other.
With all eyes on the future of our planet, concern about sustainable building materials and solid waste disposal grows every year. Plastics typically are criticized for not being "biodegradable" and for having a high environmental footprint on that basis alone. While this might be a solid line of reasoning for single use plastics, it is not valid for CPVC. CPVC is recyclable into other useful products.
Combating waterborne public health problems that can arise from the potable water supply is a complex and ongoing challenge for any water utility and desalination plant. According to the U.S. Centers for Disease Control and Prevention, who defined the guiding principles, the main objectives are to:
For decades, the environmental movement and the green building emphasis that grew out of it, focused heavily on the contribution of manufacturing processes that emitted waste byproducts to the air, water and land. However, today one of the primary aspects of assessing sustainability in building materials is acknowledging their resource efficiency and how they perform during the use phase of their lifecycle. Products that are durable, energy efficient and have a long service life by definition have a reduced environmental footprint when compared to products that are made from non-renewable materials, or that corrode and are susceptible to early failures, requiring land disposal.
CPVC Performance | Installation
When designing a new plastic piping system, it is crucial to keep in mind that the success of that system depends on a number of key factors: the quality of the parts manufactured ; the stresses imposed from operating conditions and installation issues; and the chemical substances in contact with both the outside and inside of the system. Every one of these aspects can affect the performance of the system during its service life.