CPVC Performance | Health and Safety | System Design
FlowGuard® CPVC is a thermoplastic material specially designed for plumbing system piping and fittings. It has been successfully installed in residential homes, apartment complexes, commercial buildings and government buildings since 1959. Many of the early installations are still functioning safely and reliably today. Why FlowGuard® CPVC for Residential Plumbing Systems View the infographic below to discover where CPVC can be used in the home, and the significance of the following advantages: Superior and safer water quality Durability and reliability Cost effectiveness International certification and approval
Started nearly 30 years ago, the National Guard housing project is regarded as one of the best residential projects in terms of standard and quality. The project to construct a new National Guard Family Compound focused on providing National Guard personnel with comfortable living facilities and services.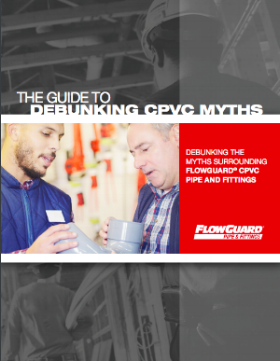 Debunking CPVC Myths
Find straightforward answers to questions about: joint reliability, drinking water safety, service life and more.
Initiated in April of 2014, the development of the SANG Hospital chain included the construction of five specialized hospitals located around the Saudi Kingdom with the mission to provide care to soldiers and their families. These specialized hospitals included: Women and Maternity Hospital in Riyadh, King Abdullah Specialized Children Hospital in Jeddah, the Neuroscience and Trauma Care Center in Jeddah, King Salman Specialized Hospital in Taif and King Abdullah Specialized Hospital in Qassim.
Located in the northern residential area of Riyadh Salnukh, the project "Rehab Pearl Compound" consisted of 186,863 sqm and included 32 villas, 4 buildings with 112 apartments, a recreational center and three swimming pools. This commercial and residential project was designed by Arki Tectonica and constructed by Sham Contracting Company.
In 2004, the first all-women university of the Kingdom of Saudi Arabia was announced: Riyadh University for Women. In 2008, the university was renamed to Princess Nora Bint Abdul Rahman, unlocking the new construction of the world's largest, modern women's institution of higher education. Assigned to the Saudi Ministry of Finance, Dar Al Handash to design and supervise the construction, he was immediately placed with the responsibility to understand the demands of the spaces and the roles they would have in shaping the next generation of women.
Founded in 1957, King Saud University's growing student population required the university to consider the addition of new buildings, including a girls campus.
The project to construct the American International School was awarded to Al Sharqawi Contracting Company, one of the leading construction firms in Saudi Arabia. The buildings consisted of elementary, middle and high schools.
Saudi Arabian grocery company, Panda Retail noticed the need for more supermarkets to meet growing population needs. Specifically, in more isolated cities and villages. As one of The Savola Group's subsidiaries, ranked ninth amongst the top 100 companies in the Saudi Arabia market, Panda Retail was in an excellent position to invest in this grocery store's expansion.
CPVC Performance | Health and Safety | Material Comparison
Water quality is of critical importance to any residential plumbing system. As a homeowner, you should be able to trust that your piping material isn't contaminating the water flowing through it. But despite water disinfection, bacteria can still be present in drinking water. Depending on the material, some pipes are more susceptible to bacterial buildup than others. As a result, multiple international studies, such as the Kiwa Water Assessment, tested the safety of several materials, including green pipe (PPR) and chlorinated polyvinyl chloride (CPVC). The result? CPVC is the one of the safest non-metallic materials for your water supply.
Installation | Material Comparison
Chlorinated polyvinyl chloride, commonly known as CPVC is a safe, durable, chlorine resistant, antimicrobial and recyclable material. CPVC pipe and fittings are used in hot and cold water plumbing systems and satisfy international potable water piping standards for today's residential homes, apartments, hotels and commercial buildings. However, some wonder about the merits of polypropylene (PPR) as compared to CPVC. PPR is a newer material used in residential plumbing systems. But before choosing PPR over CPVC, consider one important facet of the materials: installation.