Throughout Lubrizol's growing reputation for the pioneering development, manufacture and processing of CPVC over the last six decades, there has at times been some misunderstanding about CPVCs strengths, what it can do and how it benefits property owners for the long term.
When gathering materials for plumbing system installations, every part has its purpose. Getting this crucial step in the process right is as much about asking the right questions as it is about buying the right pipes and fittings.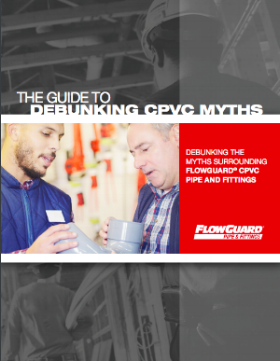 Debunking CPVC Myths
Find straightforward answers to questions about: joint reliability, drinking water safety, service life and more.
Cleanliness and good hygiene has never had as prominent a spotlight in the public consciousness as it does this year, following the events of the COVID 19 pandemic. But how can your home water supply tackle the bacterial organisms that threaten our health?
Always look for the next opportunity to save. In the trade, a few hours saved on installation or a saving on resources allocated to a build can change the direction of your success in the long term.
To position your business for success, you must position your customers with the best opportunities. Discuss FlowGuard® CPVC Pipes and Fittings with your community of Installers, if you want to achieve the following:
The Plumber's responsibility to install an efficient and safe water distribution system in the home comes down to this: the right materials, installed in the right place, at the right time. But what is the "right material?" If a plumbing pipe is installed and water is getting where it should, at the correct temperature and pressure, what more can be done? Knowing the difference between pipe materials, especially what's going on inside them over time, can make a major difference in how safely you are serving your customers.
As major decision makers in the construction process, specifiers look to quality materials to ensure a timely, efficient build, it's worth remembering what that quality also means to everyone else.
You are in the business of clean water. There is no longer any doubt that in today's marketplace, safety and hygiene are a big part of our business, which should be encouraged. Understand the impact you could be having, selling the hygienic benefits of FlowGuard CPVC to the new safety conscious customer.
In order to facilitate a switch to CPVC that satisfies everyone involved, it's important that you can tell your team and customers what they need to know. What's being installed, what they can expect during installation, what their new system has in store for them and most importantly, why, at the heart of it all, is FlowGuard CPVC.
The pure fact is this: water is life. Water makes up around 60% of body weight in adult males, 50 to 55% in females and 75% in a new-born infant. Water really matters. It's important to know how water consumption affects you and your family mentally as well as physically, and how hydrating the household the clean way is more than essential.