When a building is heated and cooled by means of the forced circulation of hot water, chilled water and/or steam, that HVAC system is referred to as "hydronic." Hot water and steam are generated with boilers, and chilled water with chillers.
All plumbing systems must past a series of third-party tests and evaluations to be used in homes and businesses. There are a number of national and international associations, as well as insurance companies that subject piping to various tests in order to advise end users on what materials and products are considered safe and reliable. FlowGuard® CPVC is often recognized as one of the safest, most reliable piping systems available. Our material meets or exceeds the safety, performance and quality assurance requirements of key international approval agencies, including: Saudi Arabian Standard Organization (SASO) ASTM International NSF International Kiwa Water Regulations Advisory Scheme (WRAS) British Standards (BSi) These key international agencies have developed different standards and approvals for manufacturing CPVC, performance and installation, many of which FlowGuard CPVC satisfies.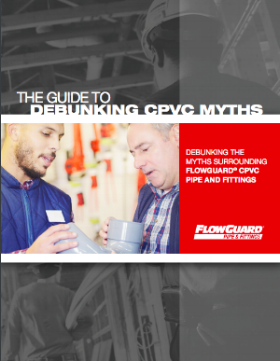 Debunking CPVC Myths
Find straightforward answers to questions about: joint reliability, drinking water safety, service life and more.
Known for its unique resource-efficient chemical composition, FlowGuard® CPVC is notable for its uniquely low environmental footprint in several areas when compared to metallic and other polymeric piping materials. For more than 55 years FlowGuard CPVC pipe and fittings has been attentive to limiting its impact on the environment.
CPVC plumbing systems are some of the most reliable on the market, thanks in large part to their strong pipe and fitting seams. CPVC is welded together using solvent cement, which is much different than glue and heat fusion. Glue simply sticks a pipe and fitting together, and heat fusion melts the adjoining materials together. These methods weaken the material resulting in a less reliable seam. On the other hand, solvent cement chemically fuses the pipe and fitting together, creating a seam that once dry becomes the strongest part of the system. So, how exactly does solvent cement join CPVC?
Health and Safety | Installation | Material Comparison | System Design
The safety and reliability of any material used within the home should be the most important consideration for any homeowner. The material used to distribute drinking and bathing water throughout your house is no exception. FlowGuard® CPVC is one of the safest piping materials in the Saudi Arabia market. That said, our representatives are often asked important questions about its quality and safety. Below, we've listed answers to some of the more frequently asked questions.
Installation | Material Comparison
Installing a brand new plumbing system or upgrading an existing one can be a costly venture. That's why price-conscious plumbers, contractors, and homeowners turn to materials that can save money, like CPVC. When compared to PPR, FlowGuard® CPVC pipe and fittings decrease material costs and labor costs, and ultimately result in long-term savings.
Installation | Material Comparison
While a strong, durable material, FlowGuard® CPVC can be damaged if mishandled or improperly stored. For this reason, plumbers should keep the following suggestions in mind when bringing CPVC piping onto the job site.
A survey of piping material purchases in Saudi Arabia revealed that the primary hot and cold water piping material is CPVC, and that FlowGuard® CPVC is the most requested brand. In the Kingdom of Saudi Arabia, CPVC has captured 60-70% of the total residential plumbing market. Only 30-40% of the country uses PPR or an alternative. FlowGuard CPVC commands 30-40% of the total residential plumbing market and more than half of all CPVC in use.
Health and Safety | Material Comparison
Heat is used to shape and mold plastics, including CPVC and PPR, into the pipes and fitting used throughout a home or villa's plumbing system. After processing, how a plastic material reacts to exposure to heat, mainly from hot water and the surrounding environment, differs based on the type of plastic and how it was processed. When choosing the plastic piping material for your plumbing system, it is important to consider how heat, specifically hot water can affect it.
FlowGuard® CPVC pipe is the preferred choice for today's residential plumbing systems. Our material meets the highest international standards, combining durability, reliability, safety and cost savings. FlowGuard CPVC outperforms all other plastic piping, including green pipe, or polypropylene (PPR). When comparing FlowGuard CPVC with PPR, our material withstands higher temperatures and pressures and produces less smoke than other plastics in a fire.