CPVC FlowGuard | Health and Safety
A common reference for CPVC materials used in potable drinking water applications is its compliance with NSF/ANSI Standard 61: Drinking Water Systems Components – Health Effects. Being defined as standard since 1988, NSF/ANSI 61 establishes minimum requirements for the control of adverse human health effects in materials, components, products and systems that have direct contact with drinking water (from source to tap) or drinking water treatment chemicals.
Health and Safety | Installation
For many years, the Kingdom of Saudi Arabia faced challenges from a lack of water resources. While KSA's cities have addressed this issue by relying on alternative methods to meet supply needs, including seawater desalination and private household underground water tanks, further challenges have emerged in providing water for residential and commercial usage that is safe.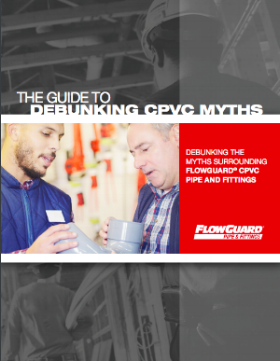 Debunking CPVC Myths
Find straightforward answers to questions about: joint reliability, drinking water safety, service life and more.
All plumbing systems must past a series of third-party tests and evaluations to be used in homes and businesses. There are a number of national and international associations, as well as insurance companies that subject piping to various tests in order to advise end users on what materials and products are considered safe and reliable. FlowGuard® CPVC is often recognized as one of the safest, most reliable piping systems available. Our material meets or exceeds the safety, performance and quality assurance requirements of key international approval agencies, including: Saudi Arabian Standard Organization (SASO) ASTM International NSF International Kiwa Water Regulations Advisory Scheme (WRAS) British Standards (BSi) These key international agencies have developed different standards and approvals for manufacturing CPVC, performance and installation, many of which FlowGuard CPVC satisfies.
Health and Safety | Installation | Material Comparison | System Design
The safety and reliability of any material used within the home should be the most important consideration for any homeowner. The material used to distribute drinking and bathing water throughout your house is no exception. FlowGuard® CPVC is one of the safest piping materials in the Saudi Arabia market. That said, our representatives are often asked important questions about its quality and safety. Below, we've listed answers to some of the more frequently asked questions.
Health and Safety | Material Comparison
Heat is used to shape and mold plastics, including CPVC and PPR, into the pipes and fitting used throughout a home or villa's plumbing system. After processing, how a plastic material reacts to exposure to heat, mainly from hot water and the surrounding environment, differs based on the type of plastic and how it was processed. When choosing the plastic piping material for your plumbing system, it is important to consider how heat, specifically hot water can affect it.
Health and Safety | Material Comparison
All piping materials and products have an effect on the environment. These environmental impacts range from securing raw materials needed to make different piping, to the energy required to manufacture the piping, to the ultimate disposition of the material. Because of this, homeowners must carefully consider the products that make up their plumbing system. No matter the material—chlorinated polyvinyl chloride (CPVC) or the green pipe (PPR)—both impact the environment during production. However, the extent of this impact is dependent on the type of material.
Health and Safety | Installation | Material Comparison
Installation is a significant factor in the time it takes to complete a project, the long-term reliability of the plumbing system, and the overall job cost. Each of these factors contributes to your ability to win a plumbing job, and its profitability. For this reason, plumbers can benefit by being more proactive with their piping material recommendations to home and building owners.
Assessing resistance to biofilm growth in plumbing pipe is one of the most important specification considerations an engineer can make. That resistance is essential to keeping potable water safe and free of bacterial contaminants that can lead to serious health problems.
Health and Safety | Installation
With any construction project, there are inherent risks and liabilities. For example, falling objects, powerful machinery, and heat used near flammable materials all create opportunities for injury and property damage. Contractors, building owners, and occupants all stand to benefit by limiting the number of hazards located around a job site. One way to accomplish this is through the selection of plumbing system material.
Health and Safety | Material Comparison
Over 16,000 residential fire accidents were reported in the Kingdom of Saudi Arabia in 2015. As a homeowner, your plumbing system probably doesn't come to mind when you think about fire hazards. However, the material of your pipes plays a critical role in flammability. Electrical shorts or power overloads can cause a fire to ignite near your plumbing pipes. Depending on the material of the pipe, your plumbing system can actually make the fire worse and spread it throughout the home. While some thermoplastics like polypropylene (PPR) aren't built to withstand heat or fire, that's not the case for all. Specifically, chlorinated polyvinyl chloride (CPVC) is engineered to limit flammability and smoke generation. In fact, FlowGuard® CPVC has been tested in accordance with EN 13501-1:2002 (a test of how well a material will react to fire) and earned the best possible fire resistant rating a non-metal material can receive. So, what are the fire resistant properties that make FlowGuard CPVC one of the most trusted materials for residential plumbing systems?