Health and Safety | Installation | Material Comparison | System Design
The safety and reliability of any material used within the home should be the most important consideration for any homeowner. The material used to distribute drinking and bathing water throughout your house is no exception. FlowGuard® CPVC is one of the safest piping materials in the Saudi Arabia market. That said, our representatives are often asked important questions about its quality and safety. Below, we've listed answers to some of the more frequently asked questions.
All piping materials expand and contract with temperature changes. The more significant the change, the more a pipe's length can change. If not accounted for in a plumbing system design, the compressive stress can damage the pipe, shortening its lifespan or causing leaks. To avoid these issues, deflection configurations need to be designed into the plumbing system. Essentially, deflection configurations take advantage of the pipe's inherent flexibility and spread the compressive stress of an expanding or contract pipe over the length of the connecting pipe piece. However, for these configurations to be effective, they need to be long enough so that the pipe doesn't bend beyond its limits.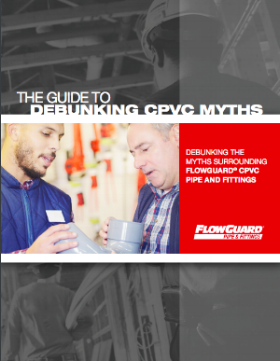 Debunking CPVC Myths
Find straightforward answers to questions about: joint reliability, drinking water safety, service life and more.
Health and Safety | Installation | Material Comparison | System Design
CPVC (chlorinated polyvinyl chloride) is a strong, durable material that has been successfully used in plumbing applications around the world for more than 50 years. Originally developed by Lubrizol Advanced Materials, CPVC's inherent chemical resistance, reliability and ability to stand up to high heat and pressure make it an ideal material for residential, commercial and even industrial piping and fire sprinkler systems. In fact, FlowGuard® CPVC residential hot and cold plumbing systems installed more than 50 years ago are still reliably delivering clean, safe water to families around the world.
Health and Safety | System Design
FlowGuard® CPVC is a thermoplastic material specially designed for plumbing system piping and fittings. It has been successfully installed in residential homes, apartment complexes, commercial buildings and government buildings since 1959. Many of the early installations are still functioning safely and reliably today. Why FlowGuard® CPVC for Residential Plumbing Systems View the infographic below to discover where CPVC can be used in the home, and the significance of the following advantages: Superior and safer water quality Durability and reliability Cost effectiveness International certification and approval