Experienced installers of FlowGuard® CPVC pipe and fittings for plumbing and HVAC projects know: a high standard of workmanship in the joining method depends on following the directions for solvent cement welding to the letter.
CPVC Performance | Installation
When designing a new plastic piping system, it is crucial to keep in mind that the success of that system depends on a number of key factors: the quality of the parts manufactured ; the stresses imposed from operating conditions and installation issues; and the chemical substances in contact with both the outside and inside of the system. Every one of these aspects can affect the performance of the system during its service life.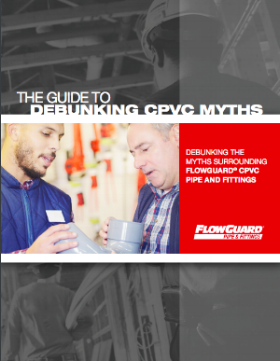 Debunking CPVC Myths
Find straightforward answers to questions about: joint reliability, drinking water safety, service life and more.
Health and Safety | Installation
For many years, the Kingdom of Saudi Arabia faced challenges from a lack of water resources. While KSA's cities have addressed this issue by relying on alternative methods to meet supply needs, including seawater desalination and private household underground water tanks, further challenges have emerged in providing water for residential and commercial usage that is safe.
We have already shared the fundamentals for the proper installation of FlowGuard® CPVC piping systems that can deliver system reliability for 50+ years. Mastery of these fundamentals is so simple that, once trained in proper techniques, plumbers find that most projects can be completed with only a few handheld tools. But can FlowGuard CPVC be integrated into existing systems of copper, stainless steel, carbon steel or galvanized steel with the same ease?
CPVC plumbing systems are some of the most reliable on the market, thanks in large part to their strong pipe and fitting seams. CPVC is welded together using solvent cement, which is much different than glue and heat fusion. Glue simply sticks a pipe and fitting together, and heat fusion melts the adjoining materials together. These methods weaken the material resulting in a less reliable seam. On the other hand, solvent cement chemically fuses the pipe and fitting together, creating a seam that once dry becomes the strongest part of the system. So, how exactly does solvent cement join CPVC?
Health and Safety | Installation | Material Comparison | System Design
The safety and reliability of any material used within the home should be the most important consideration for any homeowner. The material used to distribute drinking and bathing water throughout your house is no exception. FlowGuard® CPVC is one of the safest piping materials in the Saudi Arabia market. That said, our representatives are often asked important questions about its quality and safety. Below, we've listed answers to some of the more frequently asked questions.
Installation | Material Comparison
Installing a brand new plumbing system or upgrading an existing one can be a costly venture. That's why price-conscious plumbers, contractors, and homeowners turn to materials that can save money, like CPVC. When compared to PPR, FlowGuard® CPVC pipe and fittings decrease material costs and labor costs, and ultimately result in long-term savings.
Installation | Material Comparison
While a strong, durable material, FlowGuard® CPVC can be damaged if mishandled or improperly stored. For this reason, plumbers should keep the following suggestions in mind when bringing CPVC piping onto the job site.
Curing is a critical step of the installation process because the solvent cement must dry completely before you fill the pipes with water and test for leaks. If you were to pressurize and test the system before allowing the solvent cement to fully evaporate, you increase the chance of inadvertently damaging joints. To help avoid this issue, this resource explains what's happening as a joint cures, how long you should wait to pressure test a system, and some variables that can affect cure times.
Chlorinated polyvinyl chloride (CPVC) pipe and fitting installation is quick and cost-effective. Pipes are joined with an easy solvent cement welding process and inexpensive and readily available tools. Additionally, CPVC installation is much safer than green pipe (PPR) because it does not require heat fusion techniques or torches, which allows for easy installation in tight, confined spaces. Following best practices for FlowGuard® pipe and fittings installation will ensure a reliable, long-lasting plumbing system. The tips highlighted below do not replace the manufacturer's instructions, but provide a list of helpful dos and don'ts.