Five Ways to Install Plumbing Pipe Without Disruption
Protecting Healthcare Institutions with Smart, Efficient Plumbing Systems

When specifying a plumbing system during installation projects for public institutions, efficiency, cost effectiveness and safety are, understandably, more heavily regulated.


In healthcare institutions in particular, stringent measures are taken to ensure that patient and staff safety is prioritised and the time required on site to complete construction or refurbishment is minimised. The longer the disruption, the greater the risk to healthcare operations.
Here are five reasons why FlowGuard CPVC pipe (chlorinated polyvinyl chloride) helps to minimise disruption during installation projects in hospitals and healthcare facilities:
It does not require electricity to install
It does not require heat fusion to create strong joints
There is no requirement for heavy machinery
It is lightweight and easy to transport
It is safe to install without relocating occupants
---
---
---
Spotlight on Health: FlowGuard CPVC
The use of building materials in hospitals must always be taken seriously from a healthcare perspective. This is why FlowGuard CPVC is consistently specified for healthcare facilities:
Due to the superior smoothness of the internal pipe walls of FlowGuard CPVC, biofilm is less likely to attach, grow and produce harmful pathogens.
Pseudomonas, harmful bacteria which thrive in wet environments, are the second biggest bacterial threat in hospitals today. FlowGuard CPVC's resistance to biofilm greatly minimises the threat of an outbreak of pseudomonas.
FlowGuard CPVC's resistance to chlorine, thanks to its heavily chlorinated molecular structure, also helps to reduce the harmful effects of chemical attack, particularly during flushing and disinfection.
F
or more information about the health benefits of FlowGuard CPVC in healthcare environments, read our dedicated blog.
Which pipe is best for plumbing in hospitals?
These are just some of the reasons why FlowGuard CPVC was specified for a recent major Riyadh hospital project.
FlowGuard CPVC plumbing pipes don't require electricity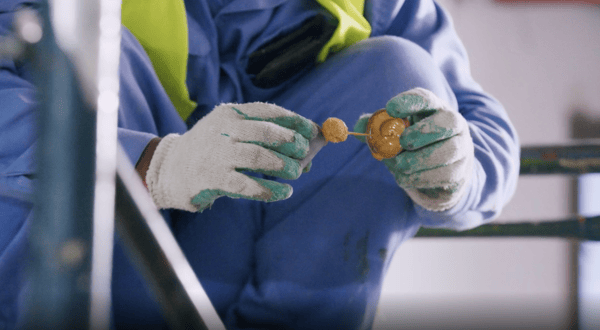 In many areas in the Middle East and around the world, relying on a healthcare facility's power supply during construction may affect the efficiency of the facility itself.
Unlike copper pipe or galvanized steel pipe, FlowGuard CPVC pipe requires no power supply whatsoever. Its installation method is executed using solvent cement and hand tools and will not require power, even when completing cuts and repairs when necessary.
FlowGuard CPVC plumbing pipes don't require heat fusion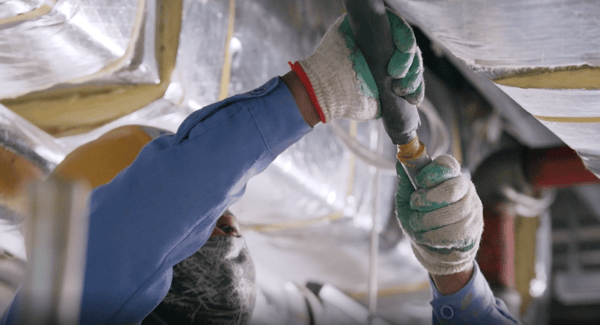 The common practice of heat fusion when installing plastic plumbing pipes presents a number of health related risks in a workplace environment. Minor injuries such as burns in the immediate instance, and the inhalation of toxic fumes being a risk to others (not to mention the overall fire risk.)
FlowGuard CPVC does not require heat fusion. Even as a cold installation process, solvent cements create a molecular bond which is even stronger than heat welded plastic, which offers the additional benefit of no beading inside the pipe, known to restrict the flow of hot water and cold water inside other piping materials like PPR.
FlowGuard CPVC requires no heavy lifting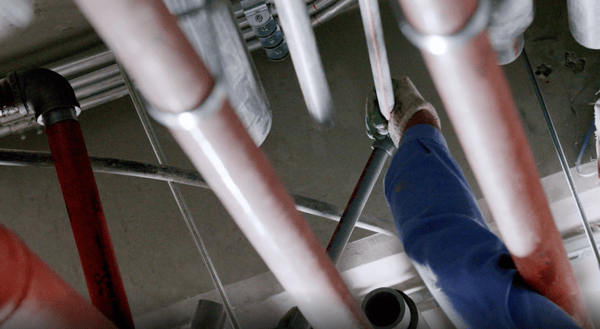 Disruption during construction projects comes in many forms. Sometimes it can simply be waiting for workmen to get their equipment from point A to point B. Carrying heavy machinery and tools through vast departments which run 24 hours a day to save lives, will inevitably hold up traffic.
FlowGuard CPVC requires no heavy machinery whatsoever; installation teams can therefore streamline the supply chain, streamline the installation process and minimise time required on site. In fact, a strong permanent molecular bond using FlowGuard CPVC pipes and fittings takes minutes.
Meanwhile, the pipe material itself is of course much easier to carry than metal piping such as cast iron or galvanized steel.
FlowGuard CPVC's rigid plastic pipes can go anywhere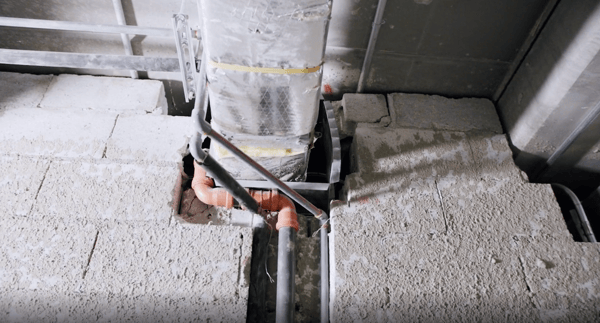 If installers are required to make complicated design choices in public buildings such as hospitals, the project timeline will inevitably face delays.
FlowGuard CPVC is not only strong, durable and long-lasting, it can also be extruded to a smaller nominal pipe size, without sacrificing any of its hydraulic capabilities.
This enables installers to optimise pipe routing throughout the building, allowing for a faster, more efficient distribution of safe, clean hot and cold water to those who need it most.
FlowGuard CPVC does its job while others do theirs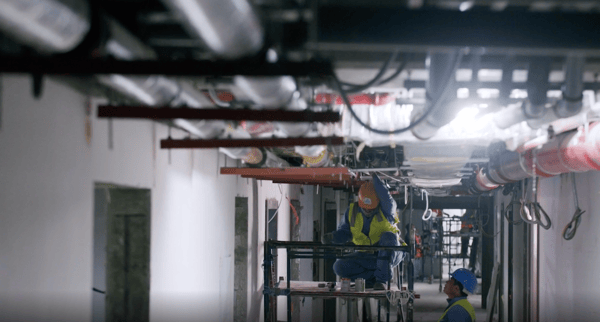 FlowGuard CPVC installation is not just a cold installation; it is a quiet one. It also presents no chemical related hazards to people working in adjacent rooms and on neighbouring floors.
This means only the smallest sections of the hospital would be required to be isolated for plumbing work, while the rest of the healthcare facility can operate as normal without any disturbances.
Learn More
To learn more about the benefits of installing FlowGuard CPVC in healthcare facilities, watch our case study video, the Riyadh Hospital Project.