Plumbing specialists in the Kingdom of Saudi Arabia must balance numerous variables in ensuring they provide a superior system of pipes and fixtures that distribute water for use in a building. As part of that analysis, the merits of smooth interior pipe surfaces should not be downplayed in promoting the delivery of drinking water that is safe. Surface smoothness is in fact a primary factor in preventing biofilm formation and should represent one critical aspect when choosing a piping material for your home.
CPVC FlowGuard | Health and Safety
A common reference for CPVC materials used in potable drinking water applications is its compliance with NSF/ANSI Standard 61: Drinking Water Systems Components – Health Effects. Being defined as standard since 1988, NSF/ANSI 61 establishes minimum requirements for the control of adverse human health effects in materials, components, products and systems that have direct contact with drinking water (from source to tap) or drinking water treatment chemicals.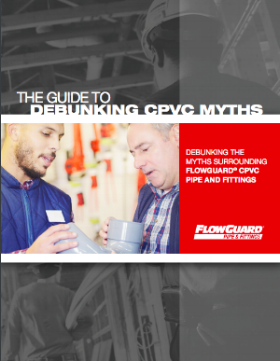 Debunking CPVC Myths
Find straightforward answers to questions about: joint reliability, drinking water safety, service life and more.
Hundreds of details go into the planning process for a luxury residential development or other high-end construction project. The inclusion of differentiating features and building amenities characterize these types of developments, which are built to exacting standards of quality matching the level of investment the buyers make. A common belief is that "expensive" is synonymous with "quality"; it is not unusual, therefore, for the material selected for the hot and cold water piping system to be copper. Designers would do well to consider some facts to protect the final owners' investment.
In recent years, interest in alternative materials for water distribution pipe has led to a lack of clarity on when it's best to specify one material over another in plumbing applications. This post will offer some information comparing single-layer CPVC to multi-layer composite pipes.
Health and Safety | Installation
For many years, the Kingdom of Saudi Arabia faced challenges from a lack of water resources. While KSA's cities have addressed this issue by relying on alternative methods to meet supply needs, including seawater desalination and private household underground water tanks, further challenges have emerged in providing water for residential and commercial usage that is safe.
We have already shared the fundamentals for the proper installation of FlowGuard® CPVC piping systems that can deliver system reliability for 50+ years. Mastery of these fundamentals is so simple that, once trained in proper techniques, plumbers find that most projects can be completed with only a few handheld tools. But can FlowGuard CPVC be integrated into existing systems of copper, stainless steel, carbon steel or galvanized steel with the same ease?
When a building is heated and cooled by means of the forced circulation of hot water, chilled water and/or steam, that HVAC system is referred to as "hydronic." Hot water and steam are generated with boilers, and chilled water with chillers.
All plumbing systems must past a series of third-party tests and evaluations to be used in homes and businesses. There are a number of national and international associations, as well as insurance companies that subject piping to various tests in order to advise end users on what materials and products are considered safe and reliable. FlowGuard® CPVC is often recognized as one of the safest, most reliable piping systems available. Our material meets or exceeds the safety, performance and quality assurance requirements of key international approval agencies, including: Saudi Arabian Standard Organization (SASO) ASTM International NSF International Kiwa Water Regulations Advisory Scheme (WRAS) British Standards (BSi) These key international agencies have developed different standards and approvals for manufacturing CPVC, performance and installation, many of which FlowGuard CPVC satisfies.
Known for its unique resource-efficient chemical composition, FlowGuard® CPVC is notable for its uniquely low environmental footprint in several areas when compared to metallic and other polymeric piping materials. For more than 55 years FlowGuard CPVC pipe and fittings has been attentive to limiting its impact on the environment.
CPVC plumbing systems are some of the most reliable on the market, thanks in large part to their strong pipe and fitting seams. CPVC is welded together using solvent cement, which is much different than glue and heat fusion. Glue simply sticks a pipe and fitting together, and heat fusion melts the adjoining materials together. These methods weaken the material resulting in a less reliable seam. On the other hand, solvent cement chemically fuses the pipe and fitting together, creating a seam that once dry becomes the strongest part of the system. So, how exactly does solvent cement join CPVC?