A reliable and lasting plumbing system demands specific performance characteristics from its pipes and fittings. One of these, IMPACT STRENGTH, predicts whether your pipes will be stored, handled and installed without breaking.
Chlorinated polyvinyl chloride (CPVC) pipe and fitting installation is quick and cost-effective. Pipes are joined with an easy solvent cement welding process and inexpensive and readily available tools. Additionally, CPVC installation is much safer than green pipe (PPR) because it does not require heat fusion techniques or torches, which allows for easy installation in tight, confined spaces. Following best practices for FlowGuard® pipe and fittings installation will ensure a reliable, long-lasting plumbing system. The tips highlighted below do not replace the manufacturer's instructions, but provide a list of helpful dos and don'ts.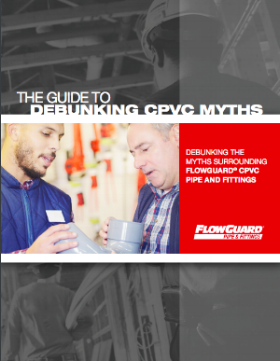 Debunking CPVC Myths
Find straightforward answers to questions about: joint reliability, drinking water safety, service life and more.
FlowGuard® Pipe and Fittings are made of chlorinated polyvinyl chloride (CPVC). CPVC is a long-lasting thermoplastic with a history of reliable performance in residential plumbing applications.
Health and Safety | Material Comparison
All piping materials and products have an effect on the environment. These environmental impacts range from securing raw materials needed to make different piping, to the energy required to manufacture the piping, to the ultimate disposition of the material. Because of this, homeowners must carefully consider the products that make up their plumbing system. No matter the material—chlorinated polyvinyl chloride (CPVC) or the green pipe (PPR)—both impact the environment during production. However, the extent of this impact is dependent on the type of material.
CPVC Performance | Installation
One of the advantages of the CPVC installation process is that it can be done in hot or cold temperatures. While the FlowGuard® Installation Guide provides step-by-step instructions on how to properly install CPVC piping for plumbing systems, contractors should take the following special considerations when installing FlowGuard pipe and fittings in hot temperatures. By following these simple guidelines, reliable solvent welds can be formed in temperatures exceeding 35°C.
CPVC Performance | Health and Safety | Installation | Material Comparison
Installation is a significant factor in the time it takes to complete a project, the long-term reliability of the plumbing system, and the overall job cost. Each of these factors contributes to your ability to win a plumbing job, and its profitability. For this reason, plumbers can benefit by being more proactive with their piping material recommendations to home and building owners.
Assessing resistance to biofilm growth in plumbing pipe is one of the most important specification considerations an engineer can make. That resistance is essential to keeping potable water safe and free of bacterial contaminants that can lead to serious health problems.
Health and Safety | Installation
With any construction project, there are inherent risks and liabilities. For example, falling objects, powerful machinery, and heat used near flammable materials all create opportunities for injury and property damage. Contractors, building owners, and occupants all stand to benefit by limiting the number of hazards located around a job site. One way to accomplish this is through the selection of plumbing system material.
Every construction project, whether a new home or repair job, has its challenges. And when it comes to plumbing, one of the most common is trying to install piping in confined or cluttered areas. Piping is somewhat flexible, but generally speaking you can't bend or contort it in any way. Fortunately, this challenge can be easily overcome by going through obstacles (e.g. floor joists) or configuring the system to go around them. The bigger challenge of working in tight spaces is the method required to join pieces of pipe together. The piping material you select can make a significant impact on the reliability of a weld and the amount of work required to complete it—which directly impacts time and cost.
CPVC Performance | Health and Safety | Material Comparison
Over 16,000 residential fire accidents were reported in the Kingdom of Saudi Arabia in 2015. As a homeowner, your plumbing system probably doesn't come to mind when you think about fire hazards. However, the material of your pipes plays a critical role in flammability. Electrical shorts or power overloads can cause a fire to ignite near your plumbing pipes. Depending on the material of the pipe, your plumbing system can actually make the fire worse and spread it throughout the home. While some thermoplastics like polypropylene (PPR) aren't built to withstand heat or fire, that's not the case for all. Specifically, chlorinated polyvinyl chloride (CPVC) is engineered to limit flammability and smoke generation. In fact, FlowGuard® CPVC has been tested in accordance with EN 13501-1:2002 (a test of how well a material will react to fire) and earned the best possible fire resistant rating a non-metal material can receive. So, what are the fire resistant properties that make FlowGuard CPVC one of the most trusted materials for residential plumbing systems?