Known for its unique resource-efficient chemical composition, FlowGuard® CPVC is notable for its uniquely low environmental footprint in several areas when compared to metallic and other polymeric piping materials. For more than 55 years FlowGuard CPVC pipe and fittings has been attentive to limiting its impact on the environment.
All plumbing systems must past a series of third-party tests and evaluations to be used in homes and businesses. There are a number of national and international associations, as well as insurance companies that subject piping to various tests in order to advise end users on what materials and products are considered safe and reliable.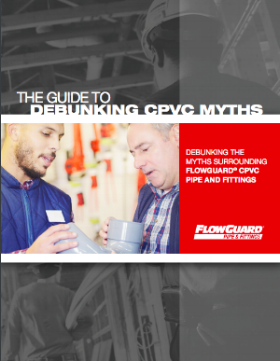 Debunking CPVC Myths
Find straightforward answers to questions about: joint reliability, drinking water safety, service life and more.
Health and Safety | Material Comparison
Heat is used to shape and mold plastics, including CPVC and PPR, into the pipes and fitting used throughout a home or villa's plumbing system. After processing, how a plastic material reacts to exposure to heat, mainly from hot water and the surrounding environment, differs based on the type of plastic and how it was processed.
FlowGuard® CPVC pipe is the preferred choice for today's residential plumbing systems. Our material meets the highest international standards, combining durability, reliability, safety and cost savings. FlowGuard CPVC outperforms all other plastic piping, including green pipe, or polypropylene (PPR).
Health and Safety | Material Comparison
FlowGuard® Pipe and Fittings are made of chlorinated polyvinyl chloride (CPVC). CPVC is a long-lasting thermoplastic with a history of reliable performance in residential plumbing applications.
Installation | Material Comparison
Installation is a significant factor in the time it takes to complete a project, the long-term reliability of the plumbing system, and the overall job cost. Each of these factors contributes to your ability to win a plumbing job, and its profitability.
Installation | Material Comparison
Chlorinated polyvinyl chloride, commonly known as CPVC is a safe, durable, chlorine resistant, antimicrobial and recyclable material. CPVC pipe and fittings are used in hot and cold water plumbing systems and satisfy international potable water piping standards for today's residential homes, apartments, hotels and commercial buildings.
FlowGuard® CPVC has been used around the world for more than 55 years.