The safety and reliability of any material used within the home should be the most important consideration for any homeowner. The material used to distribute drinking and bathing water throughout your house is no exception.
Assessing resistance to biofilm growth in plumbing pipe is one of the most important specification considerations an engineer can make. That resistance is essential to keeping potable water safe and free of bacterial contaminants that can lead to serious health problems.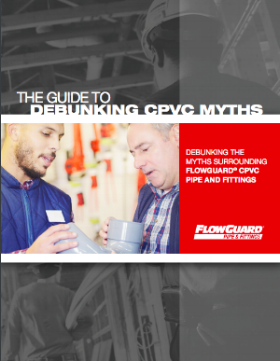 Debunking CPVC Myths
Find straightforward answers to questions about: joint reliability, drinking water safety, service life and more.
Health and Safety | Material Comparison
Heat is used to shape and mold plastics, including CPVC and PPR, into the pipes and fitting used throughout a home or villa's plumbing system. After processing, how a plastic material reacts to exposure to heat, mainly from hot water and the surrounding environment, differs based on the type of plastic and how it was processed.
Health and Safety | Material Comparison
FlowGuard® Pipe and Fittings are made of chlorinated polyvinyl chloride (CPVC). CPVC is a long-lasting thermoplastic with a history of reliable performance in residential plumbing applications.
All piping materials and products have an effect on the environment. These environmental impacts range from securing raw materials needed to make different piping, to the energy required to manufacture the piping, to the ultimate disposition of the material. Because of this, homeowners must carefully consider the products that make up their plumbing system.
Health and Safety | Installation
With any construction project, there are inherent risks and liabilities. For example, falling objects, powerful machinery, and heat used near flammable materials all create opportunities for injury and property damage.
As a homeowner, your plumbing system probably doesn't come to mind when you think about fire hazards. However, the material of your pipes plays a critical role in flammability.
The most important chemical in creating clean, potable water? Chlorine.
Health and Safety | System Design
FlowGuard® CPVC is a thermoplastic material specially designed for plumbing system piping and fittings. It has been successfully installed in residential homes, apartment complexes, commercial buildings and government buildings since 1959. Many of the early installations are still functioning safely and reliably today. Why FlowGuard® CPVC for Residential Plumbing Systems View the infographic below to discover where CPVC can be used in the home, and the significance of the following advantages: Superior and safer water quality Durability and reliability Cost effectiveness International certification and approval
Clean, potable water is arguably the most critical element for human well-being, and the adverse effects of contaminated water can be seen across the globe.