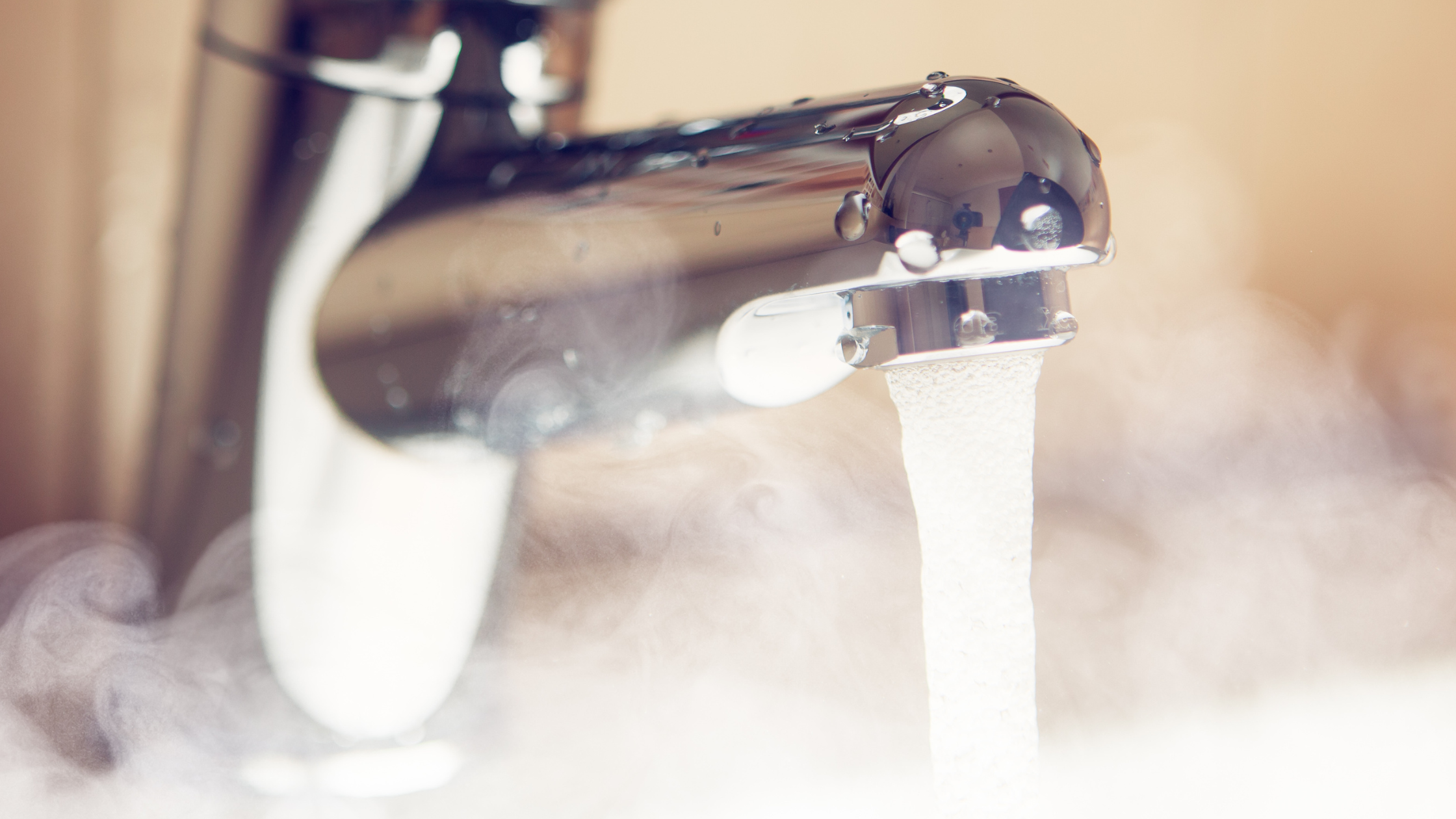 Plastics are susceptible to heat. The service life of plastic materials is limited when subjected to high temperatures. To understand the performance of FlowGuard® Plus CPVC pipe, let's understand what CPVC is, as well as its performance in hot water.
FlowGuard® Plus CPVC Performance
| | |
| --- | --- |
| Vicat softening temperature | >110oC |
| Heat distortion temperature | 100-110oC |
| Maximum operating temperature | 93°C |
| Maximum operating pressure | 7.5-8Kg/cm2 |
| Designed Service life | 50 years |
CPVC pipe is made from Chlorinated Polyvinyl Chloride compound, which is made from CPVC resin. The CPVC resin is obtained by chlorination of PVC, to obtain a more stable polymer and overcome the limitations of PVC in terms of temperature resistance.
The vicat softening temperature of CPVC is more than 110oC & the heat distortion temperature is in the range of 100-110oC, making it an ideal choice for both hot and cold water.
The Effects of Hot Water on Water Piping
Many plastic piping systems can withstand cold water at high pressures. However, as the temperature of water rises, plastic materials start losing their rigidity and the pressure bearing capabilities reduce (based on the type of plastic used.)
In the case of CPVC, due to its inherent stable molecular structure, the pressure bearing capacity at elevated water temperatures is high and hence the pipes are suitable for use in hot water, at high pressures.
Water corporations in India disinfect the water with chlorine before supplying the water for domestic use. This dissolved chlorine in water becomes very aggressive, especially in hot water, attacking metal and corroding it rapidly. Plastics like PPR and PE are vulnerable to hot chlorinated water and it has been seen that the rate of erosion of the wall of these pipes is very high, making them weak and leading to leakages.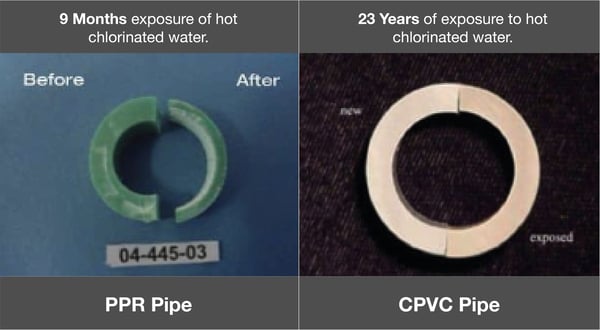 CPVC is an inert material and does not get affected by hot chlorinated water; this can be seen from the picture above. Even after 23 years of exposure, there is no change in wall thickness.
How Long Does CPVC Plumbing Last?
CPVC compounds used for manufacturing pipes were invented by Lubrizol. Lubrizol supplies CPVC raw materials to manufacturers under a licensee agreement. Pipes made from Lubrizol CPVC material are designed for a service life of 50 years for hot & Cold water applications, and are recommended for a maximum temperature of 93°C.
Lubrizol's CPVC piping systems are tested at various pressures and temperatures and have been in use for over 65 years since its inception. FlowGuard Plus CPVC can be used for continuous operating water temperature of 93oC and pressure of 7.5-8Kg/cm2,.
Recommended maximum allowable operating temperatures for other plastics are:
PPR - 70°C for 50 years
PEX - 65- 70°C for 50 years
UPVC - 35-40°C for 50 years
Water heaters are generally preset to deliver a maximum of 60°C. CPVC therefore offers a major safety factor, in case of water heater malfunction, compared to other plastic pipes.
FlowGuard Plus CPVC is Engineered for Hot Water Applications
FlowGuard Plus CPVC plumbing pipes are a reliable choice for residential plumbing applications. Due to its resistance to chlorine, corrosion,heat distortion, temperatures well above normal potable water levels, as well as increased pressure bearing capability, it is ideal for use in hot and cold water lines in homes in India and across the globe.
If you have any questions, or are looking to learn more about how FlowGuard Plus CPVC can benefit your plumbing system, contact our team of piping systems consultants.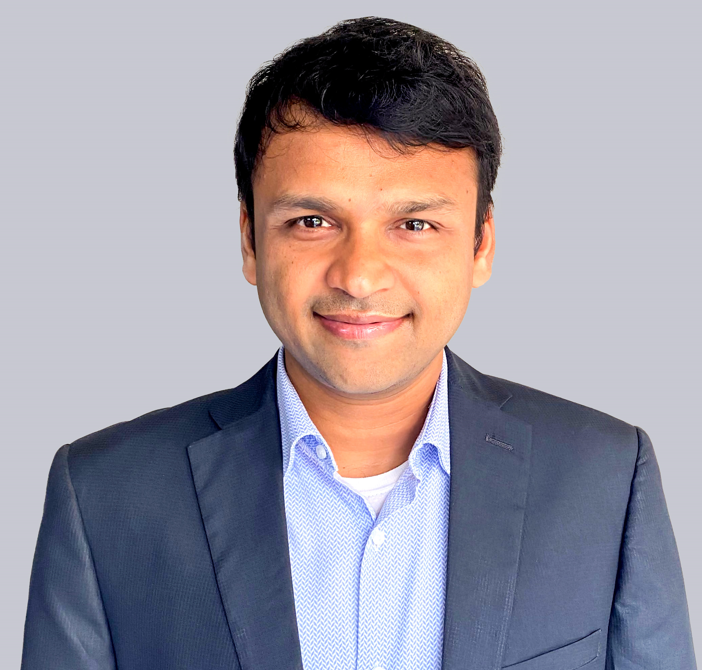 Binay Agrawal, a highly experienced and accomplished professional, currently holds the position of Business Head of the TempRite South Asia division at Lubrizol India.