Totally pure water is nonexistent. All water supplies contain additives designed to protect, and bacteria and chemicals which may cause harm in vast quantities. But a healthy background knowledge of what's inside your water can help you to prepare your plumbing system to provide safe water to your family for many years to come.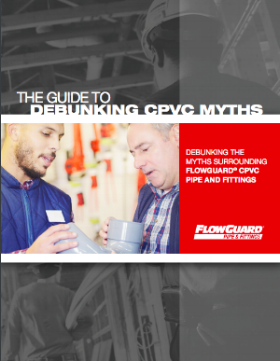 Debunking CPVC Myths
Find straightforward answers to questions about: joint reliability, drinking water safety, service life and more.
In order to facilitate a switch to CPVC that satisfies everyone involved, it's important that you can tell your team and customers what they need to know. What's being installed, what they can expect during installation, what their new system has in store for them and most importantly, why, at the heart of it all, is FlowGuard CPVC.
Home owners considering a life changing investment into FlowGuard CPVC need to know what they should expect from their experience. For answers, they look to the professionals that install it and the Traders who supply this exciting product to a competitive market.
Biofilm: The Back Story Any plumbing professional knows that there is more going on inside those pipes than many people realise. But while we may assume that there is little chance of biofilm building up inside a new water system any time soon, in some wet environments, biofilm can be formed and colonised by bacteria in just a few hours. This can happen inside water distribution systems, too. So it's important to know what's happening inside those pipes, and the risks involved.
Good Clean Water is Good Clean Business
Experienced installers of FlowGuard® CPVC pipe and fittings for plumbing and HVAC projects know: a high standard of workmanship in the joining method depends on following the directions for solvent cement welding to the letter.
Homeowners, building owners and contractors demand reliable, high-quality piping systems that deliver safe, clean drinking water over the long term. FlowGuard® CPVC pipe and fittings have a reputation for quality and 60 years of proven performance to exceed homeowner and contractor expectations.
Every piping project begins with an assessment of how to ensure the integrity of the system over its lifecycle and limit future liability. What are the steps you can take to ensure the pipe material you use is not exposing your project to unnecessary risk? First and foremost, you need to be informed on proper installation and handling of the material. To help educate installers avoid potential risk, FlowGuard® CPVC provides industry leading training resources on installation, safety and even how it compares to the competition. We encourage builders to contact us with any installation questions prior to beginning work.