As a supplier of products to the trade, consider the difference you are making to a great number of people who rely on quality.
FlowGuard® CPVC represents communities all over the world who enjoy safe, clean water. We work hard to stay true to the communities we serve through our expertise in water distribution. Like us, as a homeowner, you work hard to stay true to your community, i.e. your family, your friends and the traditions that define your life.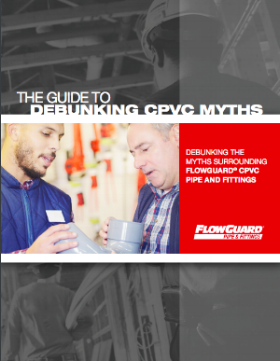 Debunking CPVC Myths
Find straightforward answers to questions about: joint reliability, drinking water safety, service life and more.
Water is essential to our nutrition and sanitation. But do you know the risks that a poor plumbing system imposes on these key elements of life?
How can you be sure you are operating in the safest way possible? What we do is a physically demanding job, sometimes installing thousands of pipes and fittings in the most challenging structures.
In 2020, the world in which we protect our homes and businesses changed for good. The emergence of the COVID-19 pandemic has fundamentally changed the way we think about our health and public hygiene.
The key to long term success is maintaining a strong, loyal customer base. Your current clients are the key to keeping the lights on.
Good working practises benefit everyone. A safe, well-maintained workspace for efficient installation isn't just for your own team's benefit; it provides the customer with assurances that they have entrusted their homes and livelihoods to true professionals.
Throughout Lubrizol's growing reputation for the pioneering development, manufacture and processing of CPVC over the last six decades, there has at times been some misunderstanding about CPVCs strengths, what it can do and how it benefits property owners for the long term.
When gathering materials for plumbing system installations, every part has its purpose. Getting this crucial step in the process right is as much about asking the right questions as it is about buying the right pipes and fittings.
Cleanliness and good hygiene has never had as prominent a spotlight in the public consciousness as it does this year, following the events of the COVID 19 pandemic. But how can your home water supply tackle the bacterial organisms that threaten our health?