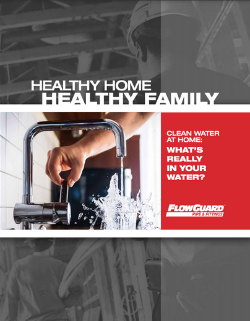 Clean Water at Home: What's Really in Your Water?
Families rely on their plumbing systems to deliver clean, safe drinking water. Over recent years decision-makers have neglected to consider the impact piping materials can have on water quality and system lifespans, often resulting in compromised water quality, system failures, incurring costly fixes for the home or building owner.
Read how FlowGuard® CPVC solutions are protecting safe and clean potable water for millions of homeowners, tenants and building users:
The FlowGuard Podcast
Welcome to the FlowGuard podcast, featuring discussions, insights, advice and product information from FlowGuard, the pioneer in CPVC plumbing technology.
Subscribe to The FlowGuard podcast for monthly episodes in which we discuss the latest in water safety developments, how to maintain high standards in the plumbing industry today, plus regular interviews with industry leaders about the role of pipe material in delivering water safety for all.
How to Subscribe
The FlowGuard Podcast is available across all major podcast platforms including those listed below.
Series Highlights
5 Questions Homeowners are Asking about FlowGuard CPVC - Prepare for your customers. Answer the important questions about why CPVC is the best choice for safety conscious homeowners.
What Do Customers Expect in 2021 - Analysing the changes that have affected the industry, along with customers mindsets about water quality in 2020, preparing traders for the future.
When it Comes to Piping, Think Premium - Discussing the premium level of service FlowGuard CPVC provides contractors, installers and end users, increasing its value without increasing its price.