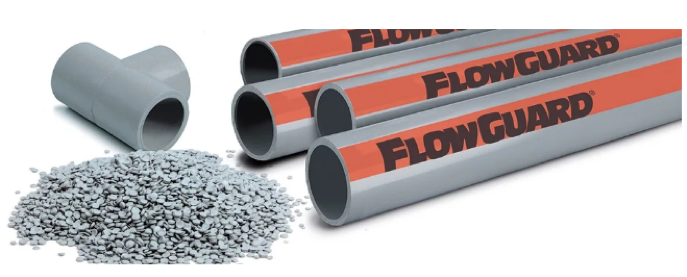 Subscribe
Not All CPVC Pipe is the Same: FlowGuard® CPVC vs. Generic CPVC
Homeowners, building owners and contractors demand reliable, high-quality piping systems that deliver safe, clean drinking water over the long term. FlowGuard® CPVC pipe and fittings have a reputation for quality and 60 years of proven performance to exceed homeowner and contractor expectations.
FlowGuard CPVC Outperforms Generic CPVC
While it is true that generic CPVC materials may be somewhat cheaper, the long-term liability cost can eliminate any immediate savings. Generic CPVC manufacturers either source their resins and compounds overseas (more than 85 percent of generic CPVC resins come from Asia) or from one company and compound them in a separate facility before sending the finished product to be manufactured. These manufacturers also often mix and mingle their resin and compound sources, resulting in inconsistent products from one batch to another.
This is the not the case with FlowGuard CPVC pipe and fittings. FlowGuard CPVC is made of proprietary formulations for pipe performance properties and is not identical to generic CPVC. The resin used in FlowGuard CPVC is fortified with additives to provide superior strength, UV resistance and improved processability, and both the resin manufacture and the compounding process occur in the same facility.
FlowGuard CPVC Has Superior Impact Strength
One of the biggest performance differences between FlowGuard CPVC and generic CPVC is in how well they each withstand impacts. Piping, like most construction-related material, is tested and rated for its impact strength or impact resistance. In an impact test conducted according to ASTM D2444, FlowGuard CPVC resisted 18 foot-pounds of impact energy without failing. On average, the impact strength of FlowGuard CPVC is 33 percent better than all CPVC pipes sold in the market, and has more than twice the impact strength of fiber reinforced polypropylene (PPR).
Generic CPVC pipe is not typically manufactured to withstand this level of impact energy. It can be diluted with a filler to make it cheaper, which unfortunately further lowers its impact strength rating and its ability to resist pressure under temperature. Generic CPVC pipe often does not even meet the ASTM D2122 standards for pipe and fitting dimensions, specifically wall thickness.
How to Verify Piping and Fittings are FlowGuard CPVC
Because it is possible for generic CPVC products to still appear on your jobsite, you should verify your products prior to installation. FlowGuard CPVC pipe can be easily identified by inspecting the print line for the trademark grey with a red stripe and the "FlowGuard®" mark. You can identify the specific FlowGuard manufacturing partners through their brand name on the pipe.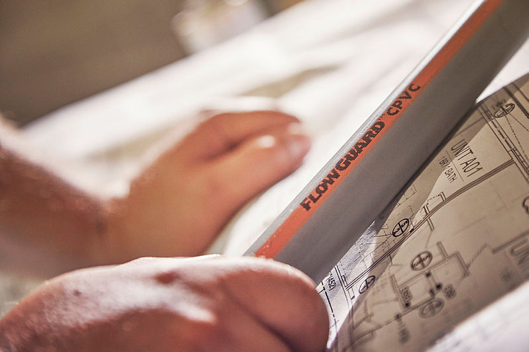 Fittings can be a bigger challenge to clearly identify and, as a result, there is a much higher risk of unintentionally mixing in generic fittings and diminishing the quality of the installation. If you purchase fittings in bulk, verify those fittings by looking for the FlowGuard logo on the packaging. If the packaging does not have the FlowGuard logo – the fittings are not FlowGuard CPVC.
Most importantly, if you encounter a distributor offering unusually low pricing on CPVC fittings (in some cases as much as 50 percent lower than FlowGuard fittings) there is a good chance they are generic. Tell your distributor you insist on quality FlowGuard CPVC pipe and fittings.
As you start to consider your next project, contact us with any questions.