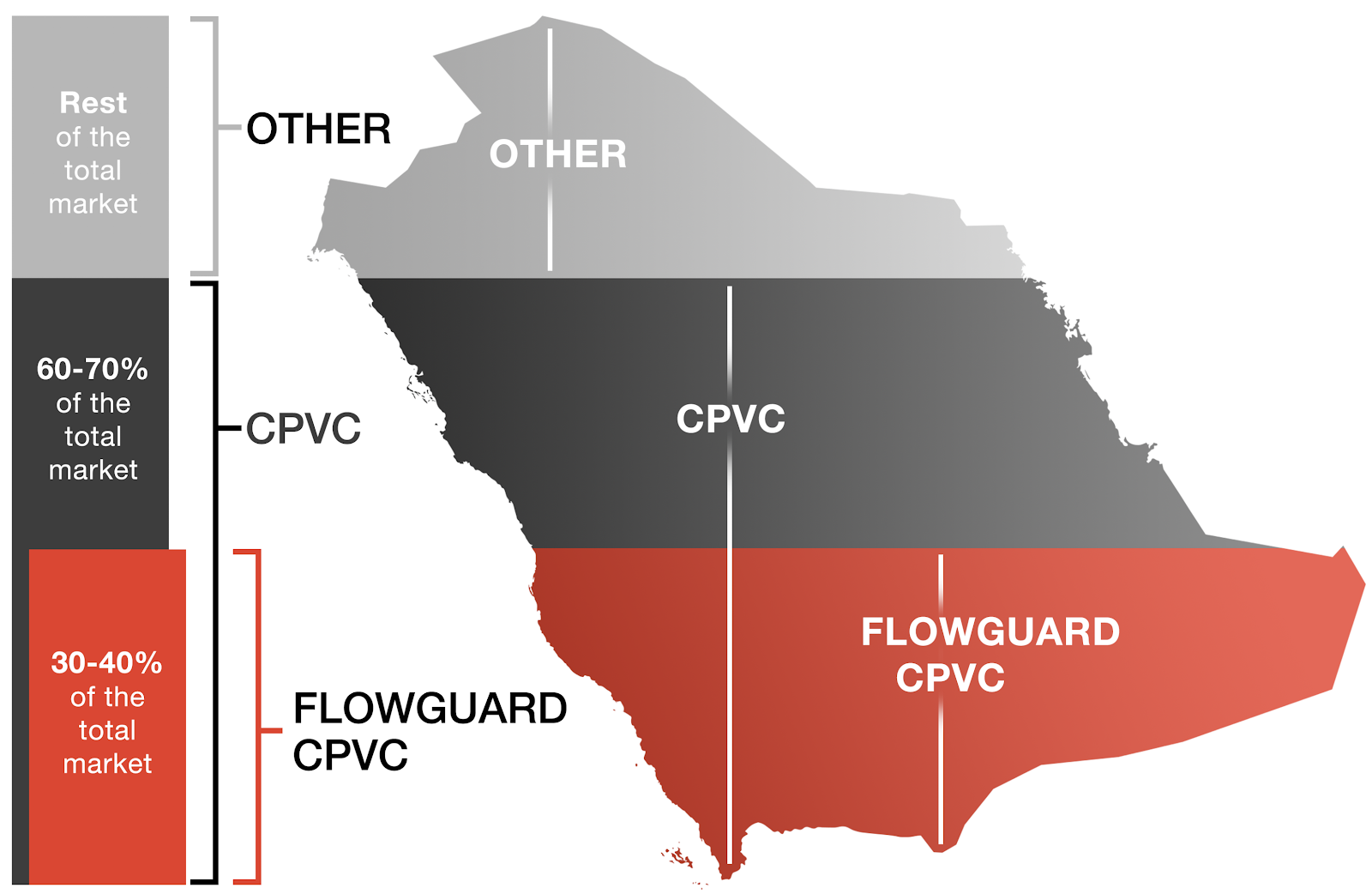 Subscribe
What Is the Top Plumbing Pipe Material Used in the Kingdom of Saudi Arabia?
A survey of piping material purchases in Saudi Arabia revealed that the primary hot and cold water piping material is CPVC, and that FlowGuard® CPVC is the most requested brand.
In the Kingdom of Saudi Arabia, CPVC has captured 60-70% of the total residential plumbing market. Only 30-40% of the country uses PPR or an alternative.
FlowGuard CPVC commands 30-40% of the total residential plumbing market and more than half of all CPVC in use.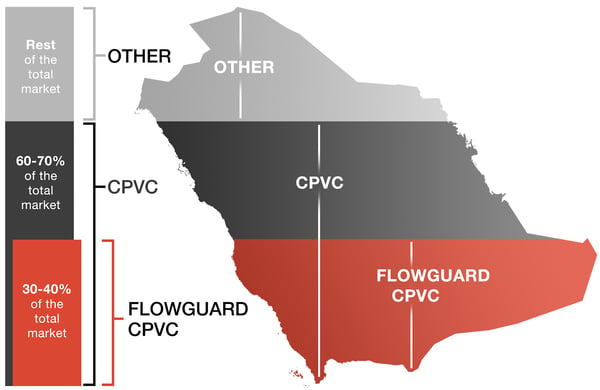 Why Is CPVC the KSA's Plumbing Material of Choice?
The reason more Saudi homes and villas use FlowGuard Pipe and Fittings more than any other brand, is because it is:
Durable.

CPVC's tensile strength is 60% higher than PPR, and its solvent cement joints become the strongest part of the entire system.

Quicker and less costly to install.

CPVC is installed using a simple solvent welding process that requires only simple hand tools and no highly skilled labor. In addition, it can be installed faster and easier than green pipe saving time and money.

Delivers superior water quality.

Multiple studies, including the

Kiwa Water Assessment

, confirm CPVC is the safest piping material on the market because it does not leach chemicals, support microbial growth or corrode like other piping materials.

Fire resistance.

CPVC does not support a flame, which means it will not continue to burn after a flame is removed or form flaming droplets that can spread a fire. In addition, it limits smoke generation.

More chlorine resistant.

CPVC is naturally resistant to corrosion from chlorine disinfectants in the water supply, while over time PPR can wear away and weaken.
FlowGuard® CPVC Pipe and Fittings
Made with superior materials and backed by more than 50 years of proven performance, discover why FlowGuard Pipe and Fittings are the most widely used CPVC plumbing systems in the world by talking to our team of piping system consultants.