Subscribe
A Well of Information about Clean Living
Cleanliness and good hygiene has never had as prominent a spotlight in the public consciousness as it does this year, following the events of the COVID 19 pandemic. But how can your home water supply tackle the bacterial organisms that threaten our health?
FlowGuard® CPVC has been a mainstay in the fight against unhygienic water distribution for over 60 years, installing healthy water supplies in homes around the world.
Your water supply could be copper, PPR or CPVC. Do you know the difference? And did you know that the material will directly influence the levels of bacteria entering your home every day?
Here are just some of the common microbial contaminants found in water supplies today.
Legionella
What is it? Legionella is found in aquatic environments worldwide. It can grow within protozoa or biofilm, and thrives in temperatures of 20 to 50 degrees Celsius.
What's the risk? Legionella has the ability to infect human cells. Transmission can be effective in aerosol conditions such as showers, humidifiers and spas.
What could it lead to? Legionellosis (the general term for symptoms contracted by legionella) can be mild or fatal. It can range from influenza for a period of 2-5 days, to rapidly fatal pneumonia, through respiratory shock and organ failure.
Pseudomonas
What is it? Pseudomonas are bacterium (bugs or germs) that are often found in soil or water.
What's the risk? Unlike Legionella, Pseudomonas are more likely to target those with underlying health problems, or those that are very young or elderly. It is most likely to affect those who are already very sick.
What could it lead to? Symptoms range from infections of the eyes, ears and skin; more extreme cases include bacterial infections of the blood and pneumonia.
Coliform Bacteria
What is it? Coliform bacteria are naturally present in all warm-blooded animals and humans. Contamination of water supplies usually comes from the fecal matter of animals or humans.
What's the risk? The level of risk depends on the three types of Coliform bacteria present. Total Coliform bacteria are generally harmless but may be an indication of other pathogens. Fecal Coliform indicates greater risk, and E.coli almost always indicates fecal contamination and can cause severe illness.
What could it lead to? Symptoms of infection can include fever, nausea, vomiting, stomach cramps or diarrhea.
What Difference Does My Pipe Make?
Water pipes are an ideal environment for biofilm, where bacteria can attach, multiply and grow. The biofilm's ability to attach securely to the inner surface of the pipe has a detrimental impact on the rate of growth and risk to the consumer.
PPR - This is a commonly used plumbing pipe, however its slight texture on the inside surface is susceptible to biofilm buildup.
CPVC - This chlorinated polymer is built for strength; its smoother pipe wall makes it harder for biofilm to attach.
How Does FlowGuard CPVC minimise risk?
In order to minimise risk of contamination to your and your family in the long term, you want your pipes to be smoother for longer. The secret to FlowGuard CPVC's longevity is chlorine.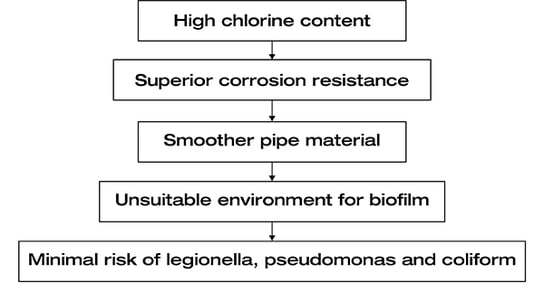 Cleaner Living for Longer
As we have seen publicised more than ever in today's media, it really is essential to clean your surfaces regularly to minimise contamination in the home. Through the technology of FlowGuard CPVC, you can make sure the surfaces that are out of reach stay naturally clean for longer.
To find out more about water safety and the healthy benefits of FlowGuard CPVC, read our eBook, Clean Water At Home.
Join our Newsletter to get advice and news delivered direct to you!