Which plastic water pipe is safe for your home? What assurances of safety does CPVC provide over alternatives? How does CPVC perform its job of protecting residents with clean safe water?
FlowGuard CPVC (chlorinated polyvinyl chloride) plumbing systems have proven their reliability for hot and cold water systems in residential applications for more than 60 years.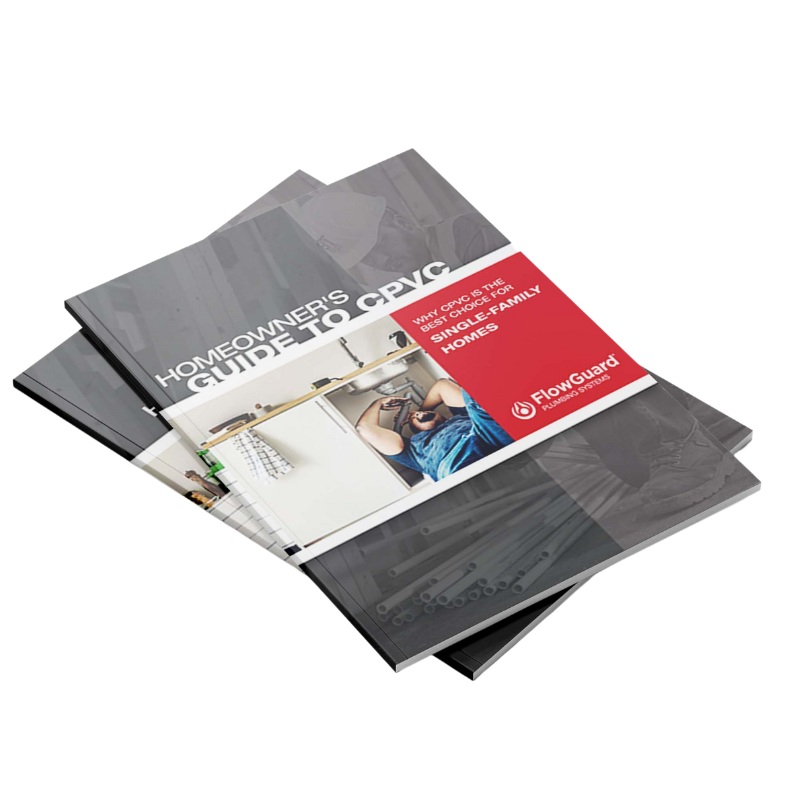 The

Homeowner's Guide to CPVC

is your free download to access all the guidance you need to protect your home with industry-leading CPVC plumbing.
Inside this guide, you will learn:
How to compare plumbing pipe materials

Plumbing material compatibility

Plumbing system Installation costs and savings

What to consider from a safety perspective

Performance benefits of FlowGuard CPVC plumbing systems
To help get you started, enjoy our new video series below.
Are CPVC water pipes clean and bacteria resistant?

Some plumbing pipes can host dangerous levels of bacteria, like legionella.

FlowGuard CPVC pipe material resists growth of bacteria. The inner surface of the rigid plastic pipes remains clear and smooth over time, resisting biofilm formation.

This helps prevent bacteria from reaching dangerous levels with proper measures, keeping your water as clean as it should be.
Which plastic water pipes are compatible with chlorine-based water disinfection?
Did you know the quality of hot and cold water you are using in your home's plumbing system is affected by chemicals?

Disinfectants such as Chlorine and Chlorine Dioxide are used to help disinfect and protect the water in your area. But when they mix with water, they can break down plumbing pipes like PPR.
FlowGuard CPVC pipe is naturally immune to chlorine due to the inclusion of chlorine in its molecular structure. This helps protect the pipe material, preventing expensive repairs to your home plumbing system and keeping your water as clean as possible at the same time.
What are the advantages of CPVC plumbing pipes in a fire?
When it comes to cold water supply lines… why should we think of fire?

Because a lot of plumbing is made of thermoplastic that cannot withstand fire, resulting in increased risk of fire damage in the home, creating burning droplets and contributing to toxic smoke.

FlowGuard CPVC is self-extinguishing and does not support the spread of flames. When exposed to fire, the smoke produced is no more toxic than the smoke produced when wood burns.

It's all thanks to the Limiting Oxygen Index (LOI.) LOI is the percentage of oxygen needed in the atmosphere to support combustion. The higher the value, the greater resistance to burning. CPVC has an LOI of 60 and does not support combustion. PPR, on the other hand, has an LOI of 18 meaning that PPR will sustain a flame.

How does CPVC perform under high temperatures?
How often do you use hot water? Do you know what it is doing to your plumbing?

Not all plumbing pipes are designed for hot water over a long period of time. PPR's maximum operating temperature is 70 degrees for the life of the building, the same temperature as most hot water supplies at home.

Over time, it cannot maintain the required pressure at this temperature, leading to weaker performance and expensive repairs.

FlowGuard CPVC's maximum operating temperature is 93℃, maintaining strength and performance for a longer time, even at higher temperatures.
Can you plumb a house with CPVC plastic piping cheaply?

How much is your drinking water at home really costing you? Some costs are hard to see.

PPR plumbing pipes are installed with heat fusion, creating internal beads on the joints. As well as encouraging bacterial growth, this also restricts flow, affecting water pressure, requiring expensive pumps to power showers and homes with multiple bathrooms, and in many cases leading to rework of a complete section to detect the problem and solve it.

FlowGuard CPVC does not require heat to install and does not cause beading, improving long term joint strength and flow rate, with no additional cost.

Learn More
To find out more about the benefits of CPVC plumbing in residential applications, comparisons to different types of plastic water pipes like PEX pipes and PPR, or for safety advice when it comes to resisting bacteria, chemicals and fire, download the Homeowner's Guide to CPVC here.