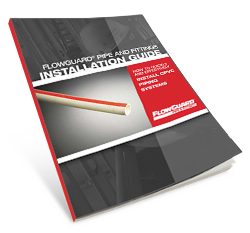 When installed properly, FlowGuard® CPVC piping systems are proven reliable for 50+ years of use. In our FlowGuard® Pipe and Fittings Installation Guide, our team of product and engineering experts provide step-by-step instructions to properly install a FlowGuard piping system to ensure its long-term reliability.
You'll learn:
How to cut piping.
The importance of deburring and beveling.
How to solvent cement weld joints.
How long to wait before testing the system.
Proper handling and storage of CPVC.
And much more.
Download this ebook for free, today!