Totally pure water is nonexistent. All water supplies contain additives designed to protect, and bacteria and chemicals which may cause harm in vast quantities. But a healthy background knowledge of what's inside your water can help you to prepare your plumbing system to provide safe water to your family for many years to come.
In order to facilitate a switch to CPVC that satisfies everyone involved, it's important that you can tell your team and customers what they need to know. What's being installed, what they can expect during installation, what their new system has in store for them and most importantly, why, at the heart of it all, is FlowGuard CPVC.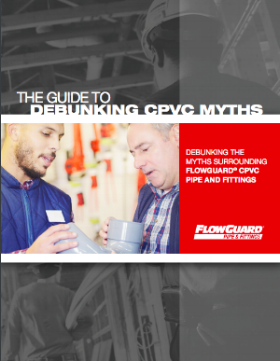 Debunking CPVC Myths
Find straightforward answers to questions about: joint reliability, drinking water safety, service life and more.
Home owners considering a life changing investment into FlowGuard CPVC need to know what they should expect from their experience. For answers, they look to the professionals that install it and the Traders who supply this exciting product to a competitive market.
Biofilm: The Back Story Any plumbing professional knows that there is more going on inside those pipes than many people realise. But while we may assume that there is little chance of biofilm building up inside a new water system any time soon, in some wet environments, biofilm can be formed and colonised by bacteria in just a few hours. This can happen inside water distribution systems, too. So it's important to know what's happening inside those pipes, and the risks involved.
Good Clean Water is Good Clean Business
In several occasions this blog has proved how FlowGuard® CPVC meets or exceeds the necessary safety, performance and quality assurance requirements of key international agencies. Many specifiers may still question whether they should design with CPVC on residential and commercial projects that handle corrosive desalinated drinking water.
As with any aging process, CPVC plumbing pipe that has been functioning for years can change in appearance with the passage of time. Discoloration can happen, but if the pipe is FlowGuard® CPVC, that will not affect the life expectancy of the piping system or its pressure bearing capabilities under normal use conditions.
CPVC FlowGuard | Health and Safety
A common reference for CPVC materials used in potable drinking water applications is its compliance with NSF/ANSI Standard 61: Drinking Water Systems Components – Health Effects. Being defined as standard since 1988, NSF/ANSI 61 establishes minimum requirements for the control of adverse human health effects in materials, components, products and systems that have direct contact with drinking water (from source to tap) or drinking water treatment chemicals.
Hundreds of details go into the planning process for a luxury residential development or other high-end construction project. The inclusion of differentiating features and building amenities characterize these types of developments, which are built to exacting standards of quality matching the level of investment the buyers make. A common belief is that "expensive" is synonymous with "quality"; it is not unusual, therefore, for the material selected for the hot and cold water piping system to be copper. Designers would do well to consider some facts to protect the final owners' investment.